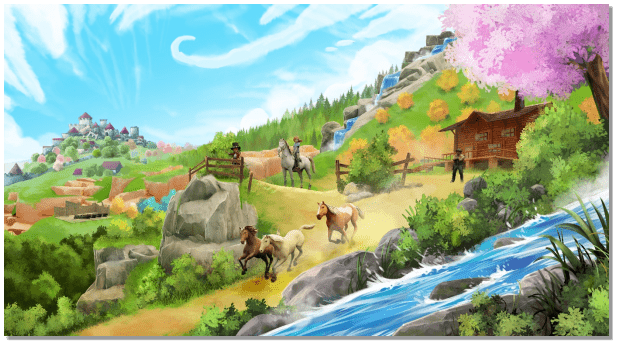 03 Nov

SADDLE UP! HORSE TALES – EMERALD VALLEY RANCH IS NOW AVAILABLE

Microids is pleased to announce the release today of Horse Tales – Emerald Valley Ranch on PlayStation®5, PlayStation®4, Nintendo Switch and PC. Developed by the studio Aesir Interactive, the game invites players to saddle up in a full-on equestrian open world adventure.

Check out the game's launch trailer!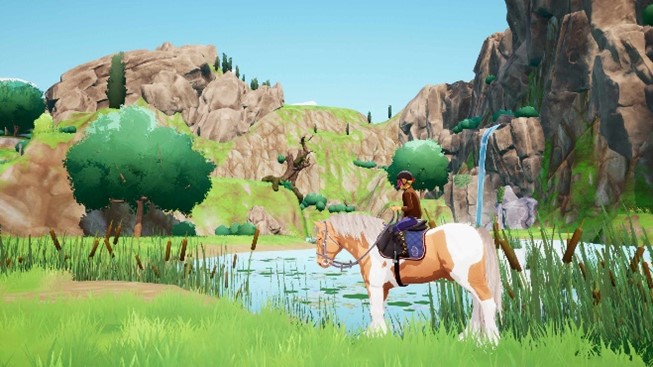 ***
Check out the game's retail Limited Edition, now available!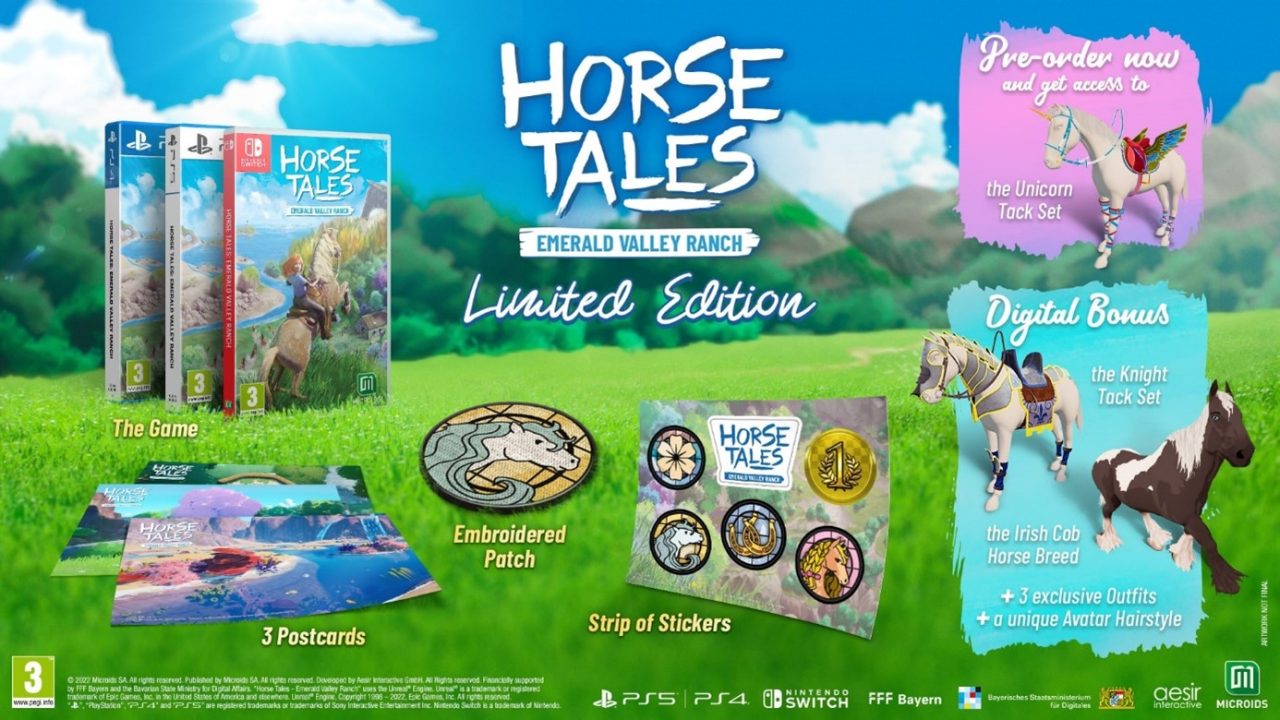 The Limited Edition includes:
The standard edition of the game for PS5, PS4 or Nintendo Switch
An embroidered patch
3 post cards
Stickers
A set of exclusive digital bonuses:

An additional horse breed, the 'Irish Cob'
3 "Knight" Style Tack Sets
A unique avatar hairstyle in three color variations
3 exclusive outfits for your character
Players who have pre-ordered the game at participating retailers will get access to 3 Unicorn Style tack sets, exclusive in-game cosmetic content to dress up your horses!
Additionally, all the digital bonuses from the Limited Edition and the pre-order content will also be sold separately as a DLC on digital stores.
***
About Horse Tales – Emerald Valley Ranch
In Horse Tales – Emerald Valley Ranch, players will be tasked with restoring their family's run-down estate back to its former glory. This quest will set them on a delightful open world adventure where they'll explore the peninsula's gorgeous and varied landscapes, from the colorful seashore of Coral Lagoon to the lush forest of Birchwoods.
They will make many friends along the way, including the nearby residents and of course… horses! Tame, breed, and establish a strong bond with your equine companions, as each is unique and possesses distinct abilities, personality traits, preferences, and training needs.
Make Emerald Valley your own by customizing your adventure: dress up your horses and your avatar with a wide variety of clothing and ornament options, and take part in rebuilding and decorating various buildings, stables, and horse care facilities.
***
Game features:
An equestrian adventure in a captivating open world: set off on an epic adventure and relish the feeling of total freedom in a vast open world. Gallop through various enchanting landscapes, along the seashore, in the forest, near a coral lagoon, and more. Who knows, you might discover a few secrets along the way!
Tame, breed and care for your horses: learn how to tame and mount the wild horses you encounter, train and take care of them, and compete in numerous races! Get familiar with all your horses as each one is unique and possesses distinct abilities, personality traits, preferences and training needs. By breeding them strategically, you will also be able to enhance their abilities and obtain unique coat colors for your horses.
Rebuild and customize your ranch: restore your run-down family estate back to its former glory by rebuilding, improving and customizing it with various structures, stables, horse care facilities, supplies and decorations.
Take part in numerous missions: gather resources, meet new friends, and complete quests to save your family's legacy.