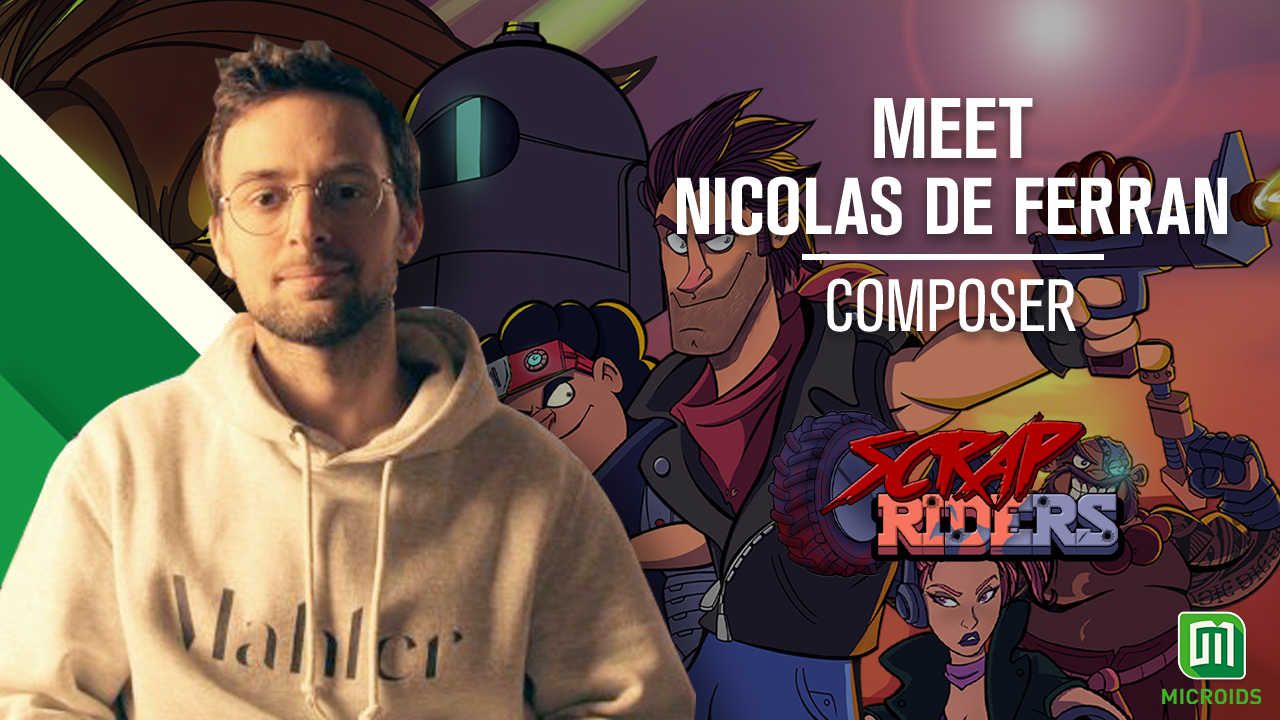 25 Jan

Scrap Riders : Meet Nicolas de Ferran
As a graduate of Berklee College of Music, what made you want to compose music for video games?
Nicolas de Ferran: I've always had a passion for video games, as much as I do for music, and it was always my ambition to become a video game music composer. When I went to Boston to study at Berklee College of Music, I really specialized in it and took all the classes related to the profession, including composition, harmony, orchestration and counterpoint. I also took classes in sound design, audio integration in game engines and middleware, game design, and more.
How did the collaboration with Games For Tutti and Marc Celma go? Was it hard or did you get along right away?
Nicolas de Ferran: The collaboration with Marc Celma and Games For Tutti was just amazing. Before I got involved in the project, Marc had already established a fairly clear musical direction, but he allowed me all the creative freedom I wanted, and he was always open to my ideas and input. All in all, it was a brilliant experience and I had a lot of fun composing the music for Scrap Riders. While we were working on the final pieces, we didn't want it to end!
Could you tell us about your musical influences?
Nicolas de Ferran: My musical influences are really wide-ranging, because I think there is great music to be found in all musical styles.
I'm a fan of classical music and jazz, but I've also listened to a lot of metal, punk, trip-hop and reggae… You can hear this in the music for Scrap Riders, which incorporates lots of different genres.
What was your creative process to highlight the various gameplay aspects in Scrap Riders?
Nicolas de Ferran: Purely in terms of musical composition, each faction and location in Scrap Riders has its own musical identity. For instance, the Vikings faction has a blend of synthwave and metal, which is kind of dark, while the robots neighborhood in Uber City has chiptune influences and a more comical side. The challenge was to bring out all these differences while maintaining cohesion between the pieces.
From a technical point of view, we decided to remain fairly old-school in our approach to implementing the music. However, we did set up a system of "layers" in Wwise (the audio middleware we used), which gave us constantly changing variations for each piece. This really helps to add some depth to the various stages of the game.
Which tools do you use to compose?
Nicolas de Ferran: My imagination mostly. I do a lot of the work in my head before putting ideas down onto "paper", which means that I never begin a piece with a blank page. This also means I can work when I'm not in the studio (in the street or wherever), which is really convenient.
Then I work in Cubase, a software program where I do everything from recording to mixing and mastering. For Scrap Riders, I used a mixture of various synths, including Zebra, Diva, Serum and Massive. Each one has its own specificities, in terms of the sound and the way they work, and it was very interesting to combine them to create unique sounds and textures.
I also use quite a lot of analogue equipment to process the different tracks, because I find that virtual synths sound a bit "cold" sometimes. It's a good way to add some distortion, warmth and compression, for example, which breathes a bit of life into the final product.
What was the most challenging aspect of creating the music for Scrap Riders?
Nicolas de Ferran: I think that the biggest challenge was achieving continuity and cohesion between the various pieces, which include both my style and Marc's, as well as the different musical influences that are specific to each moment in the game. But it was a really fun challenge to take on!
To conclude, what would your Top 5 favorite albums be?
Nicolas de Ferran: That's a really, really hard question to answer! Here are a few albums that spring to mind, but if you ask me the same question tomorrow you will probably get a different answer! 🙂
Videogame:
Koichi Sugiyama — Dragon Quest VIII
Toby Fox — Undertale
Junichi Masuda — Pokémon Red/Blue
Ilan Eshkeri — The Sims 4
Jeremy Soule — Skyrim
Other:
Keith Jarrett — The Köln Concert
NOFX — The Decline
Zero 7 — Simple Things
Alan Gilbert & The New York Philharmonic — Mahler Symphony #2
Steve Reich — Music for 18 Musicians