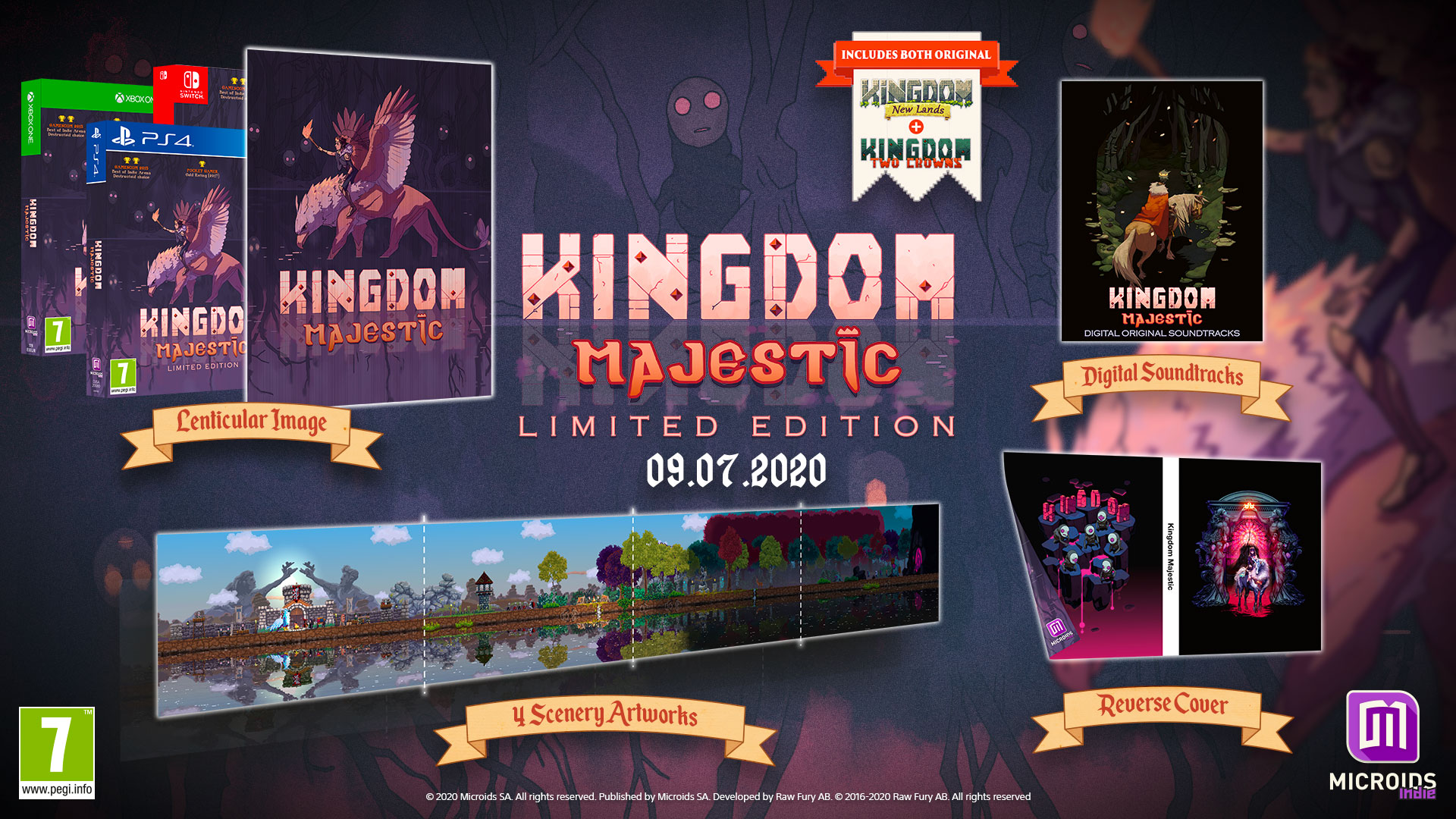 04 Jun

Kingdom Majestic coming July 9 !
Get ready to defend your throne and crown in this compilation of the hit Kingdom series!
Paris, June 4th, 2020 – The Kingdom Majestic compilation will finally launch July 9, 2020, on PlayStation®4, Xbox One and Nintendo Switch.
Featuring the 2016 hit micro-strategy game «Kingdom New Lands» and its 2018 follow-up «Kingdom Two Crowns» Kingdom Majestic will contain all content released for both titles since their original launches. This includes "Dead Lands," the newest update for Kingdom Two Crowns, a crossover event adding characters and content inspired by the gothic horror action RPG Bloodstained: Ritual of the Night.
Critically acclaimed and a massive commercial success, the Kingdom franchise is beloved for its innovative gameplay based on a minimalistic 3-button mechanic, stunning pixel art, and an evocative soundtrack. Veteran rulers know that feeling of cold sweat caused by the creatures of the night threatening your kingdom from dusk to dawn!
***
About Kingdom:
You are a monarch and your goal is to grow your burgeoning kingdom while protecting your loyal subjects and crown from the Greed! During the day, you'll travel the land atop your mount to recruit troops, order the construction of new buildings, and fetch your precious gold. At night, hordes of Greedlings will attack from both sides of your kingdom to break down your walls and steal your crown.
Kingdom's gameplay revolves around the management of funds, which is vital for recruiting new subjects, assigning them tasks, building or enhancing structures, and unlocking new mounts, NPCs, and lands to explore. Since 2015, over six million players have built their kingdoms in the series.
The Kingdom franchise is a partnership between Raw Fury, Fury Studios, Coatsink and director/designer Gordon Van Dyke (Stumpy Squid). Kingdom Majestic is published by Microids SA.
The Kingdom Majestic bundle will be available in two editions: Standard and Limited.
The Limited Edition will be available in Europe and will include:
The games
A 3D lenticular
A sleeve
4 scenery artworks representing a map when combined
The games' original soundtracks
A double-sided cover
 You'll find below the final double-sided cover: